Overview
Get Involved
Timeline
Resources
News
---
Overview
ICANN's New gTLD Program has enabled hundreds of new top-level domains to enter into the internet's root zone since the first delegations occurred in October 2013. Comprehensive reviews are currently underway in a number of areas, including:
Effects of the program on competition, consumer trust and consumer choice
Effectiveness of Rights Protection Mechanisms (RPMs) built in to the program
Stability of the DNS root zone
Effectiveness of the gTLD application and evaluation processes used in the Program
Operational aspects of the New gTLD Program in terms of efficiency, effectiveness and other areas.
Read Frequently Asked Questions for more information on the New gTLD Program Review process.
Concurrently, ICANN's Generic Names Supporting Organization is carrying out a policy development process (PDP) on New gTLD Subsequent Procedures. During this process, the group will determine whether to adjust the policy recommendations it made in advance of the New gTLD Program. Any changes to policy would affect future Program procedures for introducing additional gTLDs.
Review Areas
Get Involved
The New gTLD Program Review process depends on public comment! View open public comment proceedings or create an account on ICANN.org to receive updates on public comment activity. For questions or comments, please send an email to GlobalSupport@icann.org with "New gTLD Program Reviews" in the subject line.
Timeline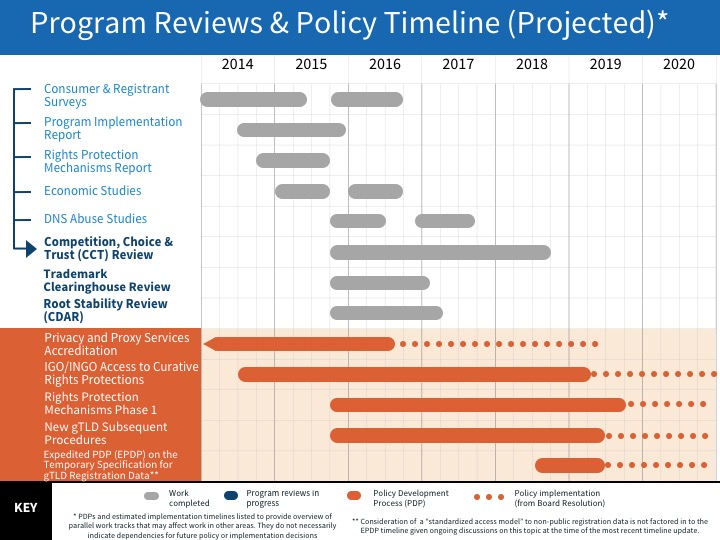 Last updated 28 September 2018
Resources
---
News Archive