New gTLD Advisory
Advisory number: R1-A01-0048
Publication date: 5 December 2012
About this advisory: Based on evaluations performed to date, there are some areas that are generating a large number of clarifying questions. The intent of this advisory is to provide applicants with information to prepare in advance of receiving clarifying questions. We recommend that applicants take pro-active steps to address any relevant issues prior to receiving clarifying questions.
Disclaimer: ICANN issues this document to provide information that is intended to assist applicants with preparing in advance of receiving clarifying questions. It illustrates areas generating a large number of clarifying questions based on applications evaluated to date. It, in no way, represents a complete list of issues under which a clarifying question may be issued. This material is for information only and does not represent all requirements and criteria that the applicant must satisfy. ICANN is not providing legal, financial, business, or any other kind of advice. This material does not represent a modification to the Applicant Guidebook, or the terms and conditions of the new gTLD program. This material also does not represent a waiver of any ICANN policy, procedure or agreement.
Have questions regarding this material? Please contact New gTLD Customer Service at https://gtldapp.icann.org/vpn/index.html.
Relevant Applicant Guidebook reference
Question 48 scoring requirement for 2 points, bullet numbers (1) and (2).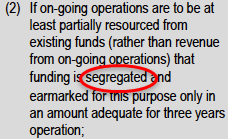 Relevant supplemental note reference
Note 1.2 of Q48 supplemental note.

Clarification of the segregation of funds requirement
To demonstrate proof that funds are available for registry operations as required and not for other purposes, applicants have the option of submitting one of the following two items:
Copy of a bank or company general ledger statement clearly showing an amount that is sufficient to cover all operating costs and capital expenditures for start-up and ongoing operations for 3 years, coupled with an assertion that the funds in such bank or general ledger account is for the purposes of the application only.
A commitment letter that contains all of the following elements:

A statement confirming the amount of funds or ranges that are committed along with references to the figures set out in the MLS or WCS template.
A statement of the string(s) that are covered by the commitment letter.
A statement that the committed funds are earmarked solely for the purposes of the applied-for string(s), and are not available for any other use.
An explanation of the source of funding (e.g., banking or internal funding arrangements).
Signature from an individual with the authority to commit the funds.